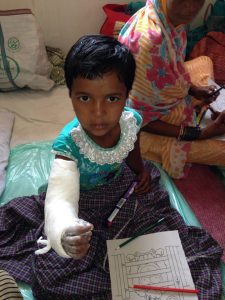 Nepal and India
Mr Sorene undertook in November 2016 his first surgical expedition to Anandaban Hospital in Nepal with the charity Promise Nepal. This trip involved complex reconstructive surgery for leprosy patients and post-traumatic surgical reconstruction of earthquake victims.
To donate please feel free to do so via the Promise Nepal just giving website
https://www.justgiving.com/promise-nepal
Mr Sorene volunteers for the Musculoskeletal Deformity Correction Camp at the SPARSH Hospital in Sastur, East Maharastra, India. He has undertaken surgery at this camp in February 2013, October 2013 and February 2014 and surgery at a similar camp in Belgaum, Karnataka, May 2014. In November 2014 he undertook surgery in Latur and also the SPARSH Hospital in Sastur, East Maharastra, India. This work is organised by the Rotary Clubs of Deonar and Coventry. The surgery undertaken in India consists of musculoskeletal deformity correction in children. Often these are severe deformities and the children come from distant rural communities with little opportunity to receive the specialist surgery they require.